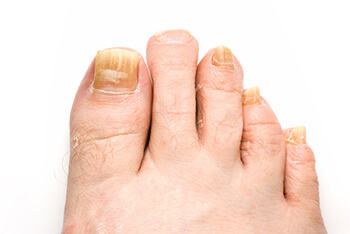 The area of the toes is generally warm and damp, unfortunately making it a great area for fungus to grow. If left untreated, the fungal infection can spread, which is why it's so important to get professional help early on and look into your treatment options.
Fungal infections occur due to fungus getting through the cracks of the toes or cuts in your skin. Common signs that you may have a fungal infection include thicker than normal toenails, oddly shaped toenails, discoloration, a yellowish hue to the nail, and separation of the nail and nail bed. Fungal infections can affect anyone but are most common among men, those with diabetes or athlete's foot, and smokers. The risk of having toenail fungus also increases as you age, if another family member has it, and if you have a weaker immune system.
To avoid getting a fungal infection, it's important that you wash your feet daily with soap and water, making sure to get in between your toes, and dry the feet well. When cutting your toenails, make sure the clippers you're using are clean and that you're cutting straight across. It's also important that you wear shoes in areas where fungus can thrive, such as wet public places like swimming pools or locker rooms.
If you believe you're experiencing a fungal toenail infection, we recommend that you speak with a podiatrist as soon as possible for a proper diagnosis and suggested plan for treatment.
Laser Therapy for Toenail Fungus
Are You Suffering and/or Embarrassed from Toenail Fungus?
Choose Laser Therapy From
Elite Foot and Ankle
You no longer need to feel embarrassed to wear open-toe shoes and sandals - or just go barefoot - because of toenail fungus or discoloration. Elite Foot and Ankle is the area's leader in restoring nails back to health, providing a natural and luminous appearance.
Class IV laser therapy is one of the most safe and effective ways to treat toenail fungus (onychomycosis)!
Laser therapy penetrates the nail bed and kills the fungus living underneath the nail - without pain and without any harmful side effects.
When the colony of fungus under the nail is "attacked" by the laser, the elements that make it grow and thrive are destroyed. This allows your nail bed to begin growing new, healthy nail. Nails that won't give you feelings of discomfort or embarrassment!
Laser therapy is a quick and easy treatment allowing patients to relax during the procedure.
SCHEDULE A LASER CONSULTATION AT
ELITE FOOT AND ANKLE NOW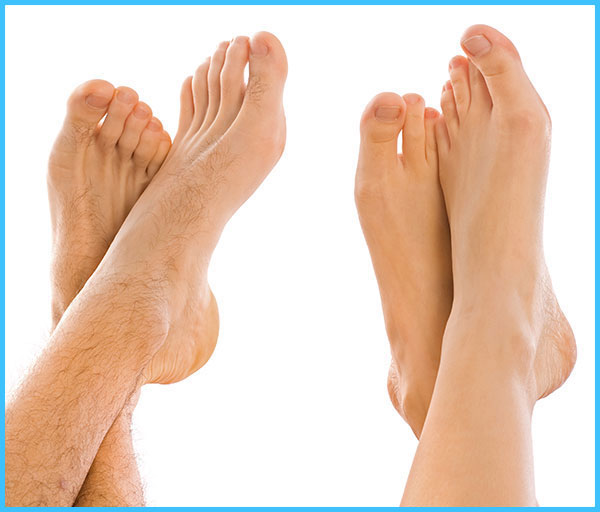 ---
What is Onychomycosis?
Fungal foot infections. They can create major discomfort and even embarrassment. They are also EXTREMELY COMMON; affecting millions of people each year.
Additionally, fungus is easily spread. Individuals with fungus may have contracted it through shared bathroom space, public locker rooms, showers, and pools, shared clothing or shoes, even carpeting.
For some, fungus is simply genetic. When this is the case, treatment can become even more difficult given the likelihood of reoccurrence.
One of the most prevalent types of fungal foot infections directly affects your toenails. This type of condition is known as onychomycosis.
You may have onychomycosis if you notice any of the following symptoms:
yellow or other discoloration of your toenails
thickened or brittle toenails
an unpleasant odor coming from the nail area
pain
It's not uncommon to feel discomfort and embarrassment due to the unsightly appearance and these symptoms of onychomycosis.
Fungal nail affects nearly 10% of the US population.
While many find the condition to be, simply, an eye sore, fungal nail can also lead to a larger problems incuding:
infection of other toenails
infecting friends and family
increased pain
ingrown toenails
Individuals with diabetes are also more susceptible to fungal nail given their compromised immune systems.
Laser therapy offers an effective, safe option for treating fungal toenail without the side effects of many oral medications.