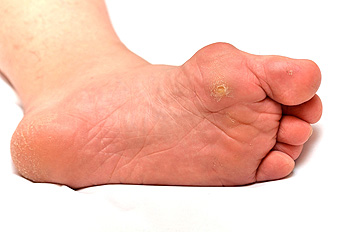 If left untreated, corns on the feet can lead to various complications. Corns are thickened areas of skin caused by friction and pressure, which can become painful and result in infections. This can happen when bacteria enter through cracks in the skin or if the corn is cut or punctured. Infections can lead to more serious problems, including septic arthritis or infection of nearby bone tissue. Corns left untreated can also trigger severe pain, causing individuals to alter their posture. This can affect how pressure is distributed while walking. Individuals with diabetes may have reduced sensation in their feet due to nerve damage. This means they might not notice small cuts or corns. If corns are left untreated in people with diabetes, it can lead to complications like those previously mentioned, in addition to tissue death known as gangrene. To prevent these complications, it is suggested that you make an appointment with a podiatrist to seek treatment if corns become painful. This foot expert can provide proper care to help avoid serious complications from corns.
Corns can make walking very painful and should be treated immediately. If you have questions regarding your feet and ankles, contact Dwayne A. Lay, DPM of Elite Foot and Ankle. Our doctor will treat your foot and ankle needs.
Corns: What Are They? And How Do You Get Rid of Them?
Corns are thickened areas on the skin that can become painful. They are caused by excessive pressure and friction on the skin. Corns press into the deeper layers of the skin and are usually round in shape.
Ways to Prevent Corns
There are many ways to get rid of painful corns such as:
Wearing properly fitting shoes that have been measured by a professional
Wearing shoes that are not sharply pointed or have high heels
Wearing only shoes that offer support
Treating Corns
Although most corns slowly disappear when the friction or pressure stops, this isn't always the case. Consult with your podiatrist to determine the best treatment option for your case of corns.
If you have any questions please feel free to contact our office located in Canton, GA . We offer the newest diagnostic and treatment technologies for all your foot and ankle needs.
Read more about Corns and Calluses